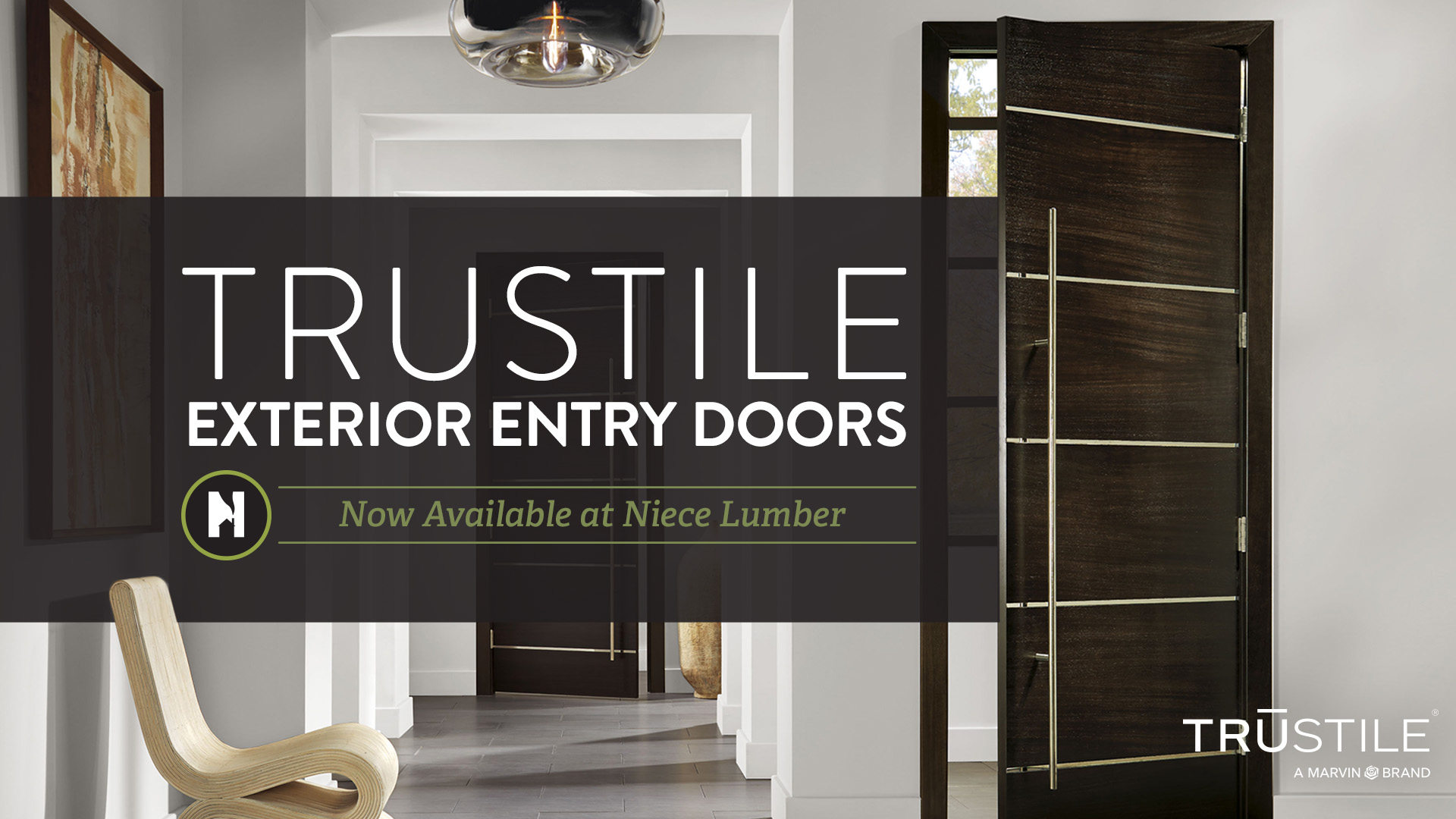 Introducing Exquisite Entry Systems From TruStile
 Niece Lumber is excited to announce a new line of products available to our loyal customers: TruStile exterior doors. A part of the Marvin family of brands, TruStile offers the same level of quality, durability, and design that you've come to expect from Marvin windows and doors. And now, choosing the perfect exterior entry system for your home is easier than ever.
 TruStile offers two ways to design your entry system: Select from 80 professionally curated, featured entry systems that match eight popular architectural styles – or customize your entry system from scratch, starting with system layout and door style all the way down to sidelites, transoms, and insulated glass. Either way, by selecting a door that enhances your home's overall aesthetic, you'll max out on curb appeal and boost your property's value for years to come.
 Why do our Niece Lumber specialists recommend TruStile? It's all in the name. TruStile uses true stile and rail construction to transform your entryway into a uniquely inviting, seamless space. It's craftsmanship you can see and feel – and durability you just can't get from the value-engineered doors produced by other manufacturers.
 Whether you're finishing up a new build, remodeling your existing home, or simply in need of a few upgrades, our team of experts is happy to help you pick out the best entry system for your home. Make an appointment to stop by the Niece Lumber showroom today: Call us at 800-932-0779 or send us a message online.
Featured Entry Systems Match Your Home's Design Aesthetic
TruStile offers 80 featured entry systems that are designed to enhance and flow beautifully with today's most popular architectural styles. Start with the style that most closely matches your vision for your home – then customize it to match your unique needs and preferences.
Pick an exterior door to match any of the following eight architectural styles:
Modern:

Sleek, natural materials, clean strong lines, and bold accents that make a statement.

Traditional:

Reflects the classic and historic design ideas of an earlier time and place.

Modern Farmhouse:

Clean lines and open views offer understated elegance.

French Country:

Take your design sensibilities back to the high style of French art and architecture.

Coastal:

Casual, warm, and welcoming statement entry systems.

Mediterranean:

Enjoy the richness, charm, and warmth of Spanish and Italian living.

Craftsman:

Defined by simplicity and quality workmanship.

Cape Cod:

Authentic details and natural materials complete your grand entrance.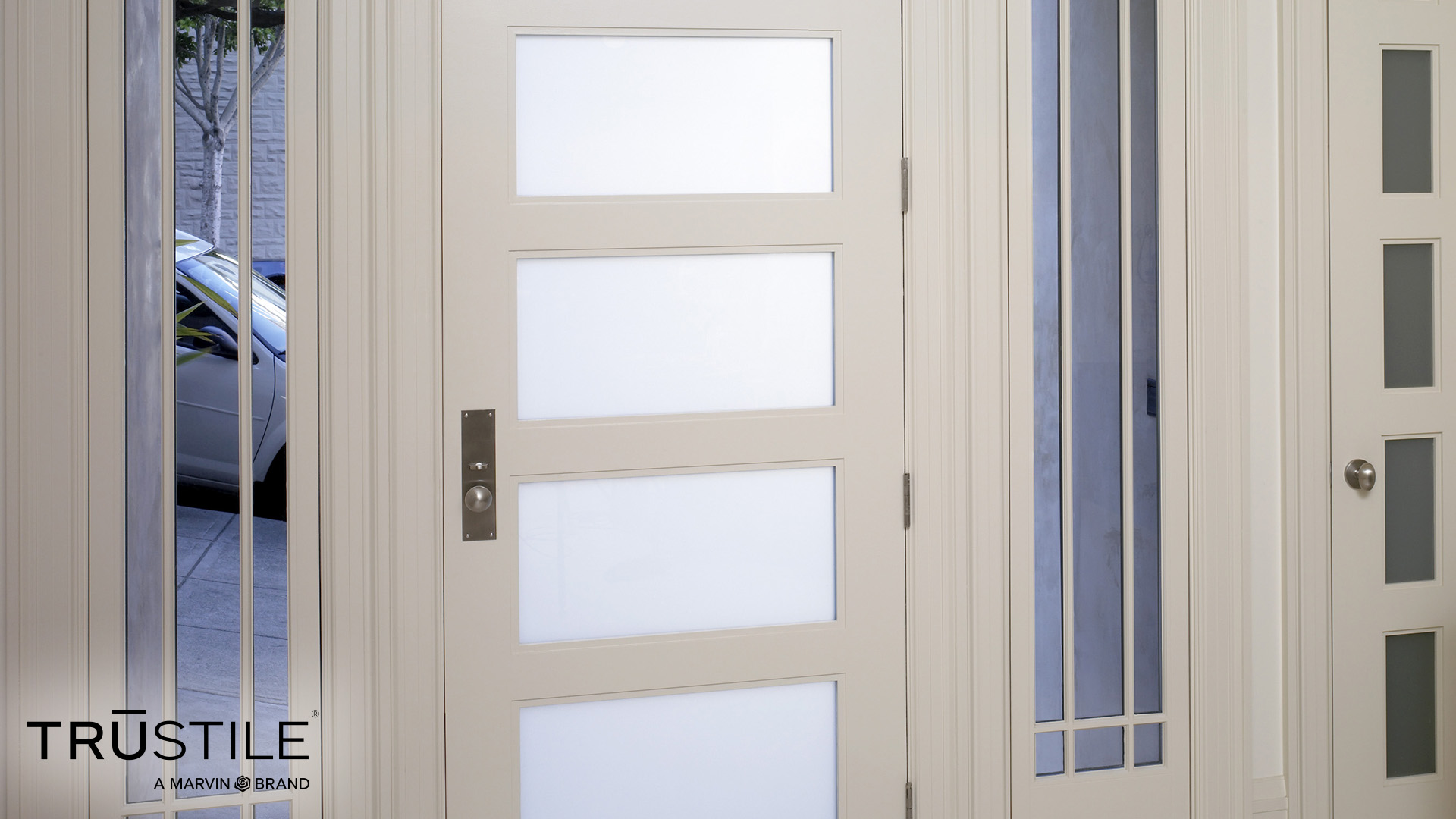 Custom Entry Systems From TruStile
If you have an eye for design or you know exactly the profile and layout of the door you want, consider building your TruStile door from scratch. You don't have to have a background in carpentry to create a custom entry system! Simply select from over 500 door styles and endless design options, then finalize the details to your exact specifications.
Build your perfect exterior door online with the TruStile Door Design Tool.
How to Choose a TruStile Exterior Door: Wood vs. MDF
TruStile offers two choices in exterior door materials: Wood and MDF (medium-density fiberboard). The best choice for your home will depend on a number of factors: Is your exterior door frequently exposed to the elements? Do you live in a climate that fluctuates significantly from season to season? How long do you want your door to hold up before it requires maintenance?
Read on to learn more about the pros and cons of wood exterior doors and MDF doors.
Wood Exterior Doors
There are several benefits to choosing a traditional wood exterior door: First, they have a distinctive, handcrafted appearance that's tough to replicate with other materials. They're also highly customizable, relatively affordable, and can be stained to meet the exact wood tone you desire. Wood is easy to paint and, although it is somewhat more susceptible to chipping or warping, it's also easy to sand and repaint later on. Wood doors can also be left unpainted and finished with stain, instead, for a warm, traditional look.
TruStile wood doors are built in the authentic stile and rail manner: Horizontal rails and vertical stiles create the template for a perfectly balanced door, with panels connecting these two components and creating the illusion of a single carved piece of wood. TruStile doors are manufactured with an engineered stave lumber core, traditional dowel construction, and a premium color and grain pattern matching system. Wood doors are available in walnut, white oak, mahogany, alder, pine, fir, and cherry.
MDF Exterior Doors
MDF (medium-density fiberboard) is often undervalued: While some manufacturers with lesser quality standards offer cheap, flimsy MDF doors, TruStile uses only the highest quality MDF in its exterior doors. In many cases, MDF surpasses wood in terms of its longevity and resilience, and it may be a better choice if you plan to paint your door.
Thanks to its engineered construction, MDF is more stable than natural wood. It evades common problems like panel shrinkage and warping and, since it's denser than natural wood, offers superior swing weight and sound control. Paint also goes on smoother and may even last longer on MDF than on natural wood.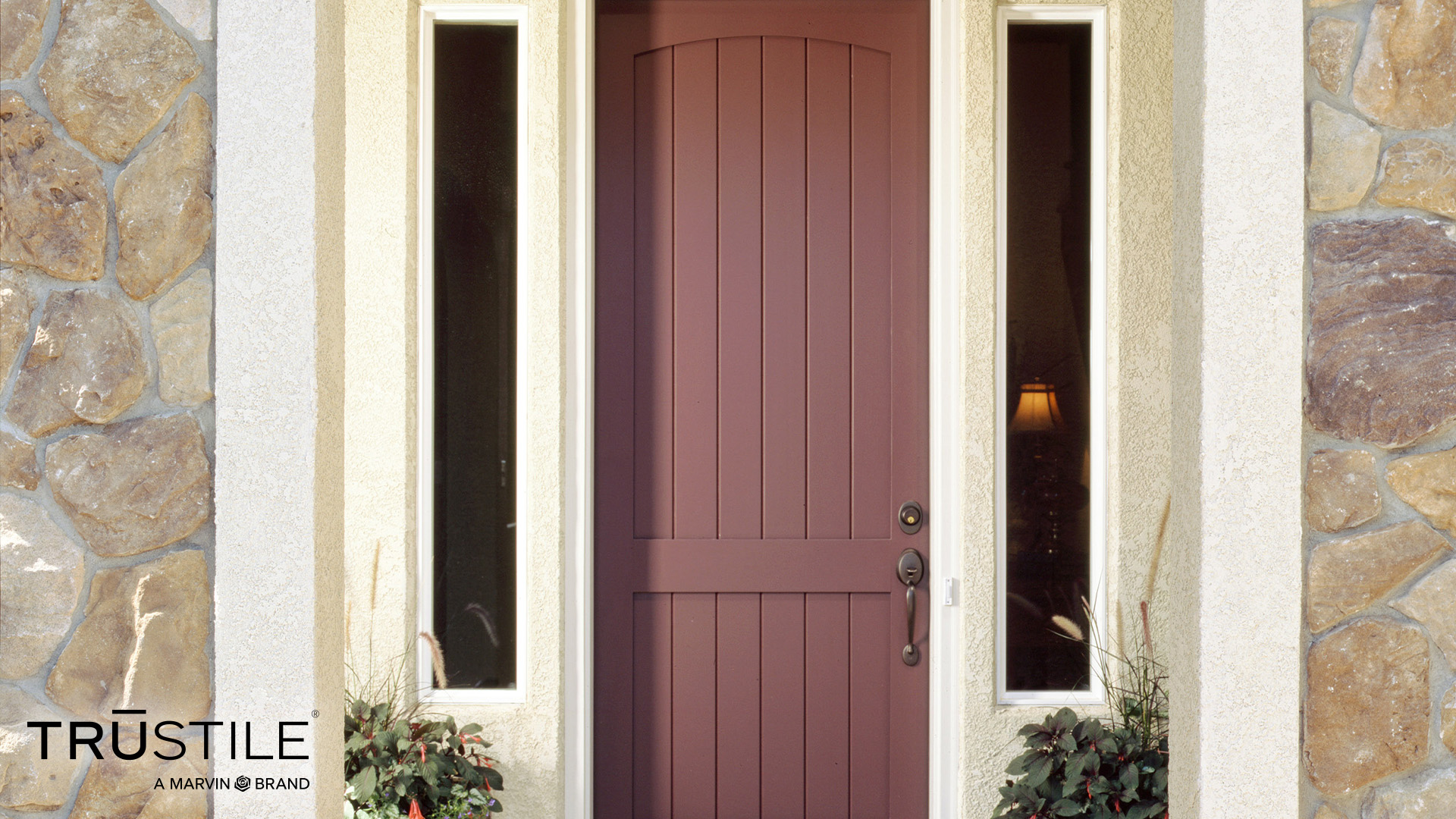 TruStile Exterior Door Warranties
When properly installed with an overhang, TruStile exterior door systems are warranted to be free from manufacturing defects for five years if factory-finished or factory primed, and three years if unfinished (except alder door systems and components parts, which are warranted for one year whether finished or unfinished). Learn more about TruStile warranties here.
Order TruStile Exterior Doors From Niece Lumber
Niece Lumber is proud to offer our customers the highest quality lumber, moulding, windows, and doors. Please contact us for the availability of stock, quick-ship, or special order materials.
P.S. Our showroom is open! Call 800-932-0779 to schedule an appointment.
---