'Contemporary' is a design trend you always hear of, but what is it exactly? Unlike other design trends, contemporary trends aren't linked to a specific time period. They constantly change to reflect the tastes of the time, which means they're always very trendy, but they can also be tricky to keep up with.
If you want to turn your home into a contemporary oasis, why not start with your cabinets? At Niece Lumber, we have a wide selection of Urban Effects Cabinetry Contemporary Designs to help you build your ideal home that is up-to-date with the times. Here are the latest contemporary cabinet design trends happening in 2022 and our tips on how to stay on top of them.
Frameless for Full Access 
One of the most popular cabinet design trends right now is the frameless design, also known as full access cabinetry. Traditional cabinets use a framed design in which the door sits on hinges attached to the frame. It leaves a small space between the doors and drawers in the cabinet's face.
Frameless cabinet designs don't have a frame — as the name might suggest. All the doors and cabinets are nearly flush against one another, giving it a sleek, polished feel with clean lines. Without the frame, they also get you more clearance inside, which is ideal for those giant serving platters you can't seem to fit in any cabinet!

Expand your Color Palette 
The latest cabinet trend is adding in some color! Traditionally, cabinets are often seen in natural wood grain or white. While natural wood is still in (and will likely never go away), painted cabinets are all the rage lately, specifically  earthy greens, dark blues, and black. 
If you really want to add a contemporary splash to your space, you can even two-tone your cabinets by using one color on the upper cabinets and natural wood on the lower (or vice versa). If you're hesitant to commit fully, another on-trend idea is to add a pop of color to just your kitchen island cabinets. When it comes to color, the world is your oyster!
Color is a great way to add personality, depth, and a touch of flair to any space, and at Niece Lumber, we offer a wide variety of Urban Effects cabinet colors to fit any contemporary style. Browse their selection of colors to find the ones that'll best fit your design aesthetic.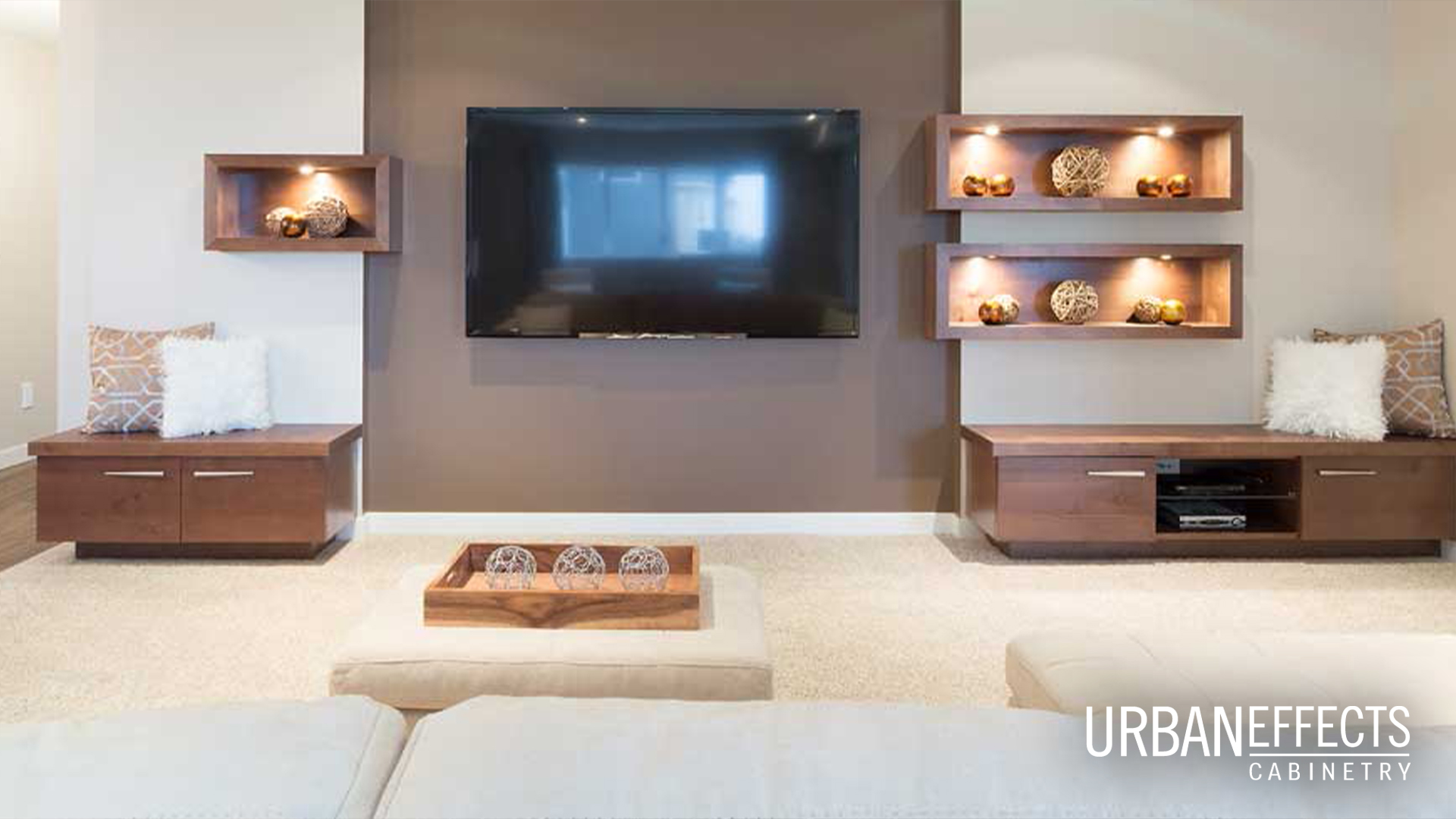 Where Storage Meets Style
The beauty of contemporary cabinets is that they aren't just for your kitchen and bath. You can install them anywhere you need some additional storage space and put them on full display! 
You'll find that more and more designers are looking for ways to maximize the form and functionality of your rooms. One way they work smarter not harder is by adding storage and cabinets in non-traditional places. 
Need a little extra space below your mounted TV in the living room? There's no rule that it has to be an entertainment center. By installing contemporary cabinets in your living room, you can add a touch of color and style to the space and still have plenty of room to put all your electronics, kids' toys, or anything else you want to stash away from sight.
Looking to spruce up your home office? Imagine a built-in wall of shelves and contemporary cabinets. Not only will you have room to store your work and supplies, but you'll also have a decorative, professional backdrop for all of your virtual meetings! 
Find the Contemporary Cabinets of Your Dreams at Niece Lumber 
Since the contemporary style isn't rooted in a specific decade, it can vary from year to year and designer to designer. Luckily at Niece Lumber, we have a wide selection of Urban Effects Cabinetry to fit any need, style, or space. Explore their idea book for more inspiration and finished looks. 
Contact us today or visit our showroom to find the best contemporary cabinet designs for your home. Ready to start your cabinet project? Our design team is available to offer expert planning and installation advice to help guide you through the process. Fill out this questionnaire and let's get started!
---