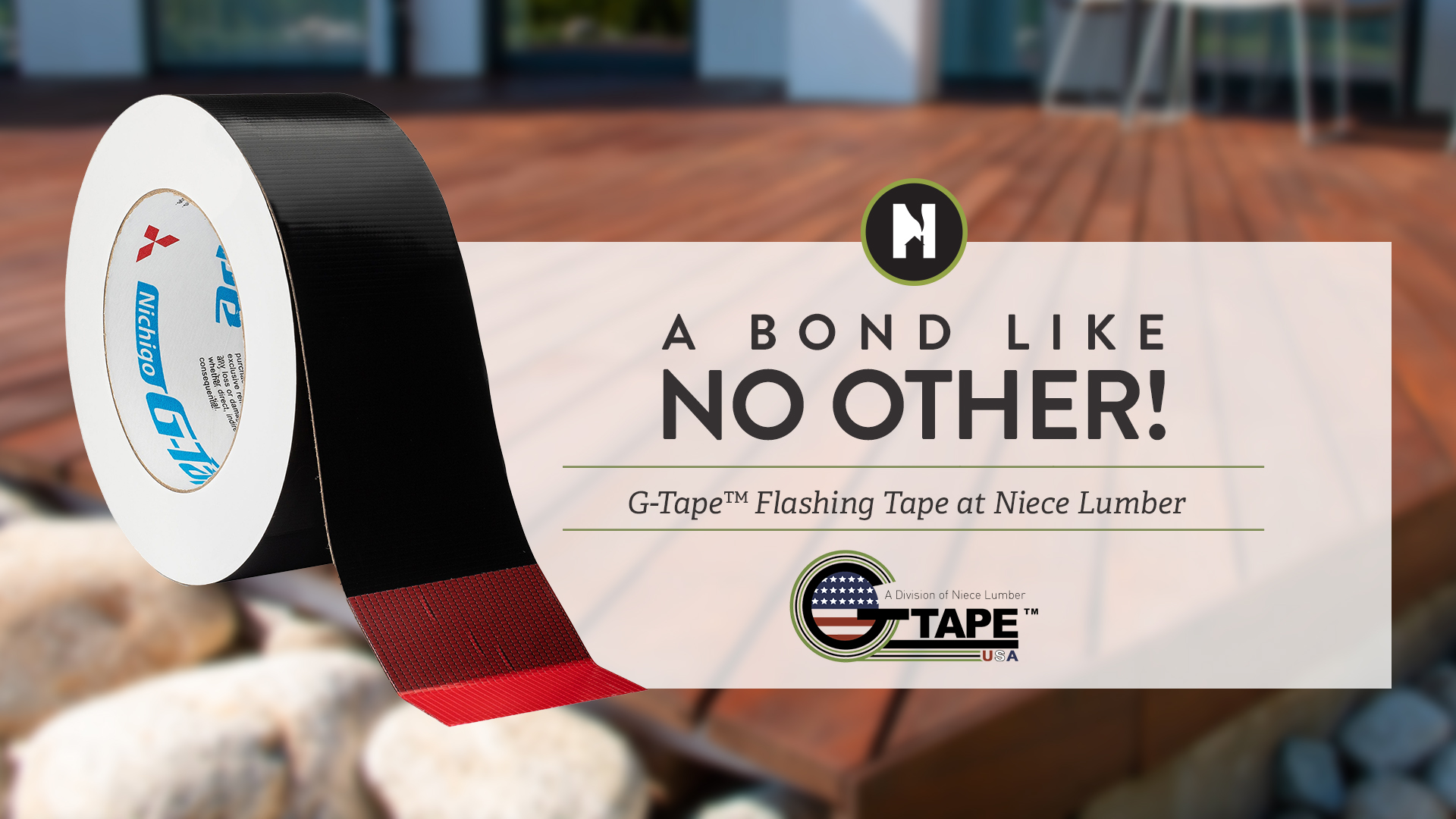 Water damage is one of the greatest threats to your home. While the obvious culprits are leaky pipes or flood damage, another one lurks beneath the surface. The seams of your structure, like windowsills and door jambs, need to be appropriately secured from the harsh elements, or you risk water seeping through. The right flashing tape will protect your building from water damage that can lead to mold, decay, and cracks. Learn how G-Tape can help protect your home from water damage and extreme temperatures and weather conditions.
Flashing tape is a strong adhesive applied beneath the trim or siding to create a barrier around the seams of your home, in your HVAC systems, your deck or patio, or in other problem areas where moisture could permeate. Flashing tape is known for its versatility and ability to adhere to a wide variety of materials like metal, wood, vinyl, OSB, and plastic sheathing wraps.
At Niece Lumber, we're dedicated to offering you the best products that can extend the life of your structure. That's why we're proud to sell G-Tape, the industry leader in flashing tape.
All About G-Tape, The Flashiest in Flashing Tape
Let's be honest, there's nothing flashy about flashing tape, but G-Tape certainly brings a little excitement and a whole lot of innovation to what you've come to expect in flashing tape. That's because it earns the highest possible rating in its class (AAMA 7-11-07 Level 3 Type A), so you can trust the performance no matter the size of your project.
G-Tape is designed to withstand extreme temperatures and weather conditions, so the integrity of the adhesive will remain intact even in strong storms like blizzards or hurricanes. While the product's strength is unparalleled, it's also extremely easy to work with.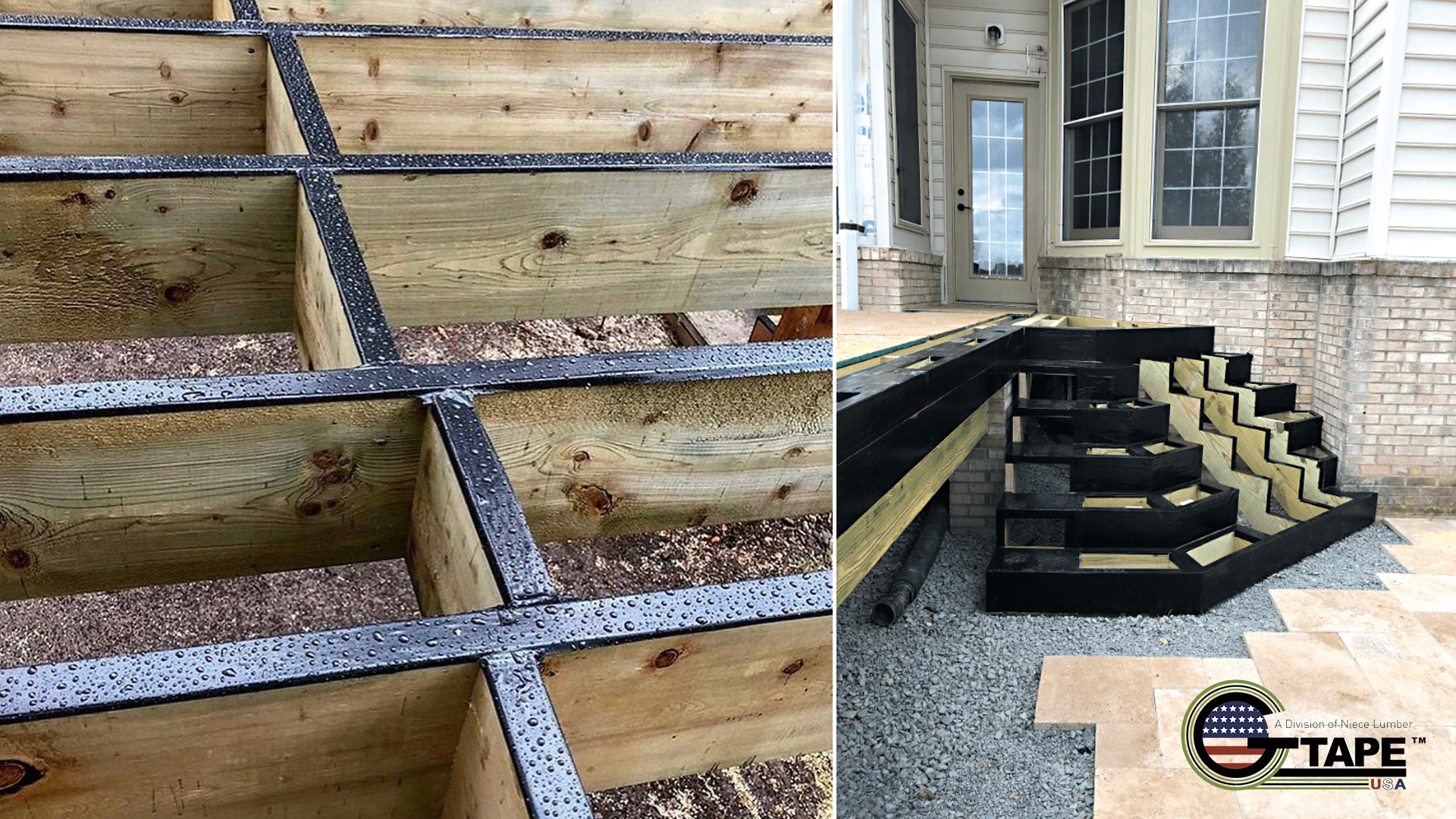 It doesn't matter if you're a professional contractor or DIY homeowner; you can tear, reposition and install G-Tape smoothly and efficiently for long-term protection. The full lineup of G-Tape products is meant to serve any project, from a new deck to a new build. Niece Lumber can help find you the right G-Tape solutions for your specific project.
Patented Adhesion Technology for Any Application
When choosing flashing tape for your project, you want to know that it will stick and remain protective for a very long time. G-Tape has all that durability and reliability through its patented combination of solvent acrylic adhesive paired with an advanced backing substrate. All this to say that it does its job and does it well!
G-Tape is a pressure-sensitive adhesive, which means that the bond is sealed when pressure is applied. For best results, we recommend running a hand pressure roller over the tape to create a more secure bond to any substrate.
No matter the surface, no matter the application, and no matter the climate, G-Tape is designed to adhere to any surface and can be used in construction, industrial, or consumer applications. Whatever area you need to seal or protect, G-Tape can handle it for you.
Get Your G-Tape at Niece Lumber
With a comprehensive selection of flashing tapes, you can find the perfect G-Tape right here at Niece Lumber.
Whether you're looking for a flashing tape that's permanent, temporary, or removable, the experts at Niece Lumber can help you find the G-Tape that will work best for your project. Prevent costly repairs with a reliable G-Tape flashing tape that will continue performing for decades.
---