How to Pick the Best Exterior Doors for Your Home
First impressions are important. We spend time and money to present ourselves in just the way we want others to see us. Why treat our homes any differently?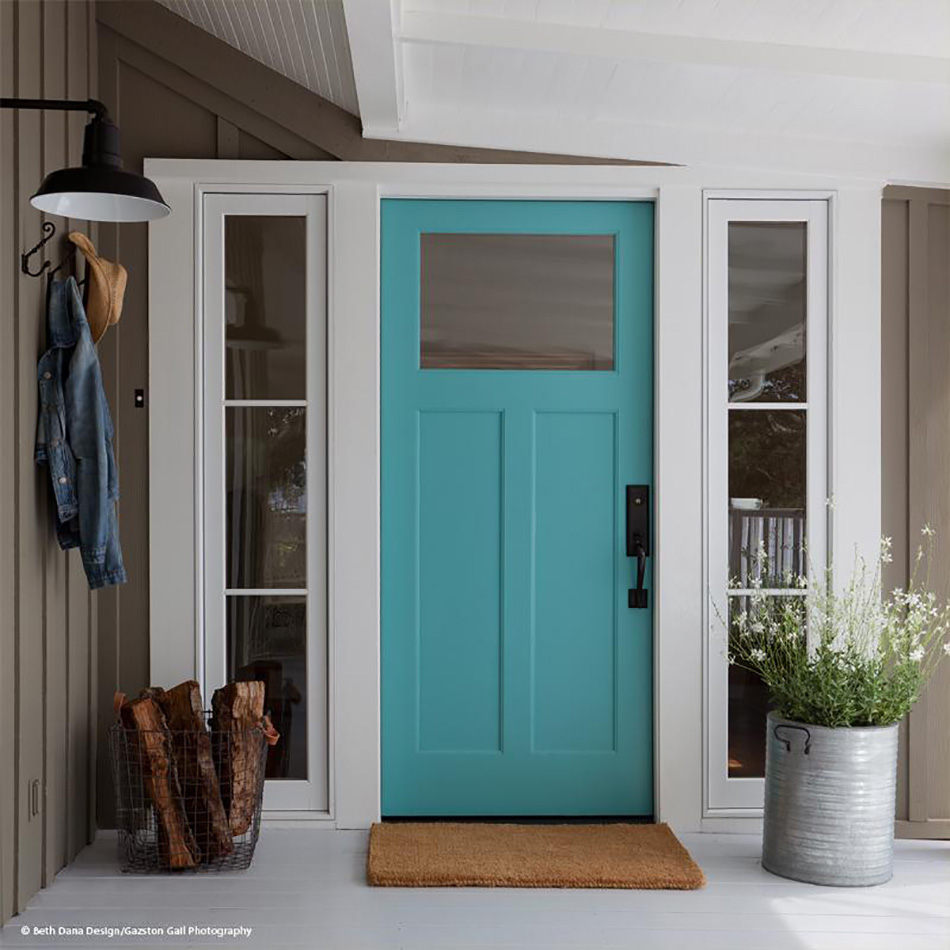 Your front door is the very first feature that visitors will notice when stepping onto your property. It can make or break the overall look of your home, just ask your local real-estate agent. And, of course, exterior doors must serve a practical purpose. Not only should they be visually attractive and in sync with your home's overall architectural design, but they must also be sturdy, long-lasting, and secure. Some homeowners also look for noise cancellation and energy efficiency as key features in a new exterior door. 
The best-constructed entry doors can handle all of these responsibilities with ease, performing optimally for years, or even decades, after installation. There are many different types of exterior doors on the market today, each offering a unique set of benefits. Commonly seen exterior door materials range from solid wood to long-lasting fiberglass, aluminum, and high-security steel. Keep in mind that different door materials entail different levels of long-term maintenance, with most requiring a fresh coat of paint at least every 5-10 years. 
Whether you're putting the final touches on a new build or you're just ready for an update on your existing home, a custom exterior door adds instant curb appeal to your property. Let's take a look at some of the most popular types of exterior doors – and a handful of our personal favorites – all available from Niece Lumber. 
Types of Exterior Entry Doors
Your entry door – a.k.a. your front door – needs to be stylish, functional, and secure. These doors typically face the street and have a noticeable impact on your home's overall aesthetic. Whether you go with a traditional wood grain finish or a bold paint color, Niece Lumber can help you select and customize the perfect look. 
We carry specialty exterior doors from top brands including Marvin, Lincoln, Therma-Tru, Simpson, TruStile, ProVia, Larson, and several others. If you're in the market for a new front door but aren't quite sure where to start, take a look at this quick guide to exterior and entry doors. 
Need help making a final decision? That's what we're here for. Contact us today at 609-397-1200 or request a quote online. 
Fiberglass Doors
Fiberglass doors are ideal for homeowners who prefer the look of a traditional wooden door but want something that will last a bit longer. These doors can be ordered in any array of custom colors and stains; most can also be painted by hand should you decide to switch things up later on.
They stand up relatively well against heavy use, repelling most dents and scratches. Fiberglass tends to be somewhat more expensive than wood entry doors, but these doors also do a better job at insulating your home – which means you may save on energy costs in the long run. 
Niece Lumber carries fiberglass entry doors from ThermaTru, ProVia, and Marvin Doors. We love this Smooth-Star® 2-Panel Craftsman door with right-hand Sidelite from ThermaTru, shown here in Indigo. 
Steel Doors
Steel doors are widely considered the safest and most secure entry door option in terms of preventing break-ins, making them a good choice for homeowners in more highly populated areas. However, they do not hold stain colors as easily as wood or fiberglass doors, which means they must be painted and may chip if not properly maintained. Steel doors can also rust if they are dented or heavily scratched. 
Since steel doors are filled with insulating foam, they're highly energy efficient. These doors also stand up to fairly harsh weather and temperature changes, making them a good choice for local NJ homeowners who experience both winter snow and summer storms. 
Looking for a steel door with a polished look and excellent security ratings? At Niece Lumber, we're proud to carry ProVia Legacy™ Steel Doors which feature 49% more galvannealed steel than a standard 24-gauge door.
Solid Wood Doors
It's hard to replicate the traditional, handcrafted appearance of a solid wood exterior door. These doors are a popular choice because they can easily be customized to your preferences – plus, they tend to be more affordable than other options. Wood doors can be stained to reach your ideal shade that accentuates other finishes on your home, lending warmth and organic texture to your entryway. If you prefer a splash of color, wood doors are also easy to paint (or sand and repaint as time goes by). 
When selecting a wood door, it's a good idea to do some research on the type of wood you want and its degree of durability ahead of time. Most wood doors require a bit more maintenance than fiberglass, steel, or aluminum options. This is because wood absorbs moisture, making it prone to warp or rot if not protected from the elements. Wood tones will also change or fade with continued exposure to sunlight.
Niece Lumber carries solid wood exterior doors from Simpson Doors, known for their superior craftsmanship with multiple wood species, as well as wood doors from Combination Door Company and TruStile. We love the rustic finish on this pair of French doors from the TruStile French Lite Collection.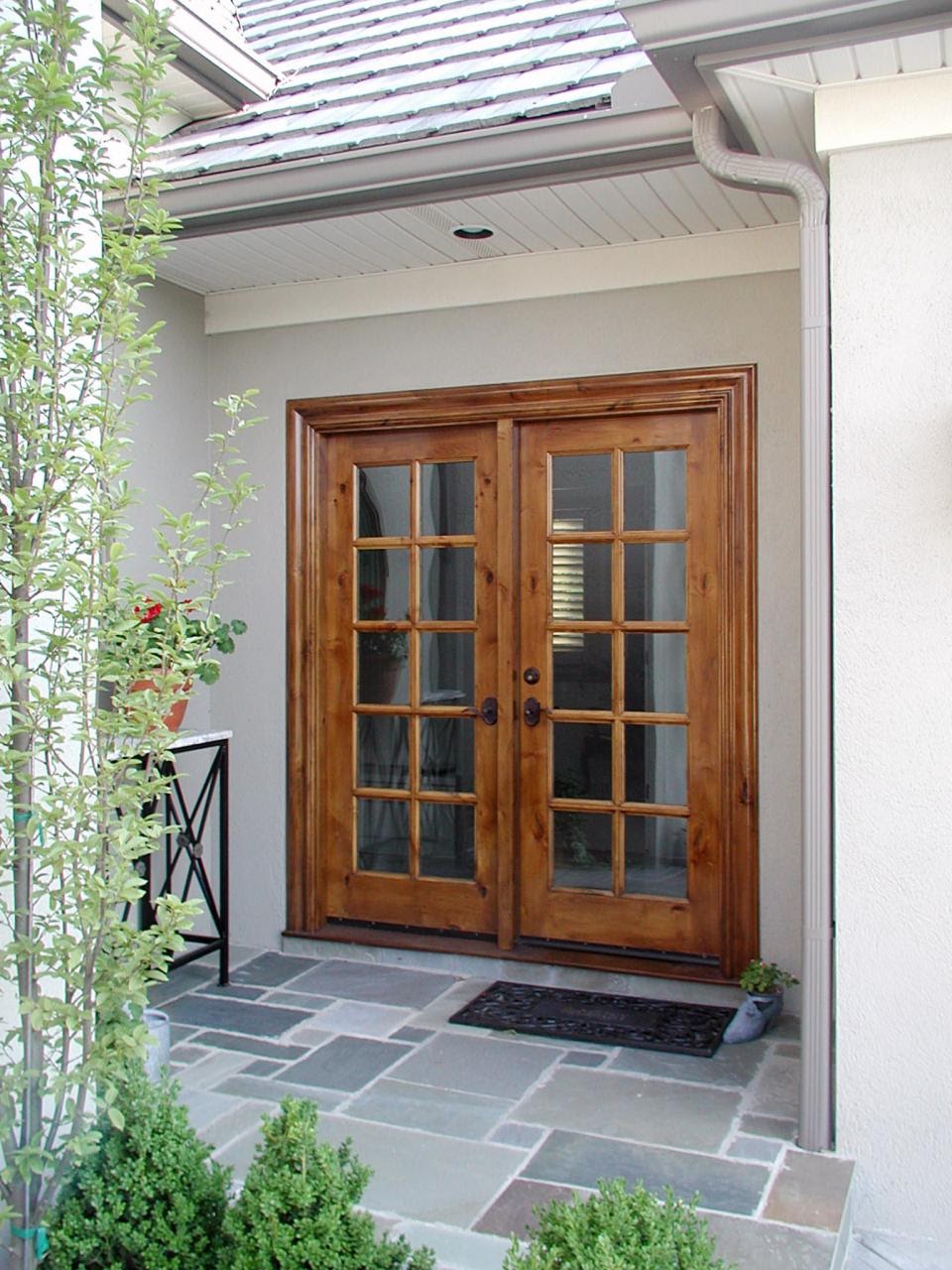 Find Your Perfect Exterior Door with Niece Lumber
Choosing an exterior door is no simple task: A quick search online proves that the options are nearly endless. Once you've decided on a door material and style, you'll also have to consider elements such as glass paneling, paint or stain color, locking mechanisms, rails, swing direction, and plenty more. And, of course, cost is always a consideration (and custom doors can add up fast!). 
We're here to help make the process of buying and installing a new exterior door a whole lot easier. Niece Lumber offers specialty exterior doors from some of the most trusted brands in the U.S. We'll work with you to help you select the style, material, color, glasswork, and finish of your ideal front door, all the way down to the panels, hardware, casing, and sidelites. We want to make sure the door you end up with is the door you'll be happy with for a lifetime – and that it will continue to make that perfect first impression on all your future visitors. 
Ready to get started? Request a Quote. 
---