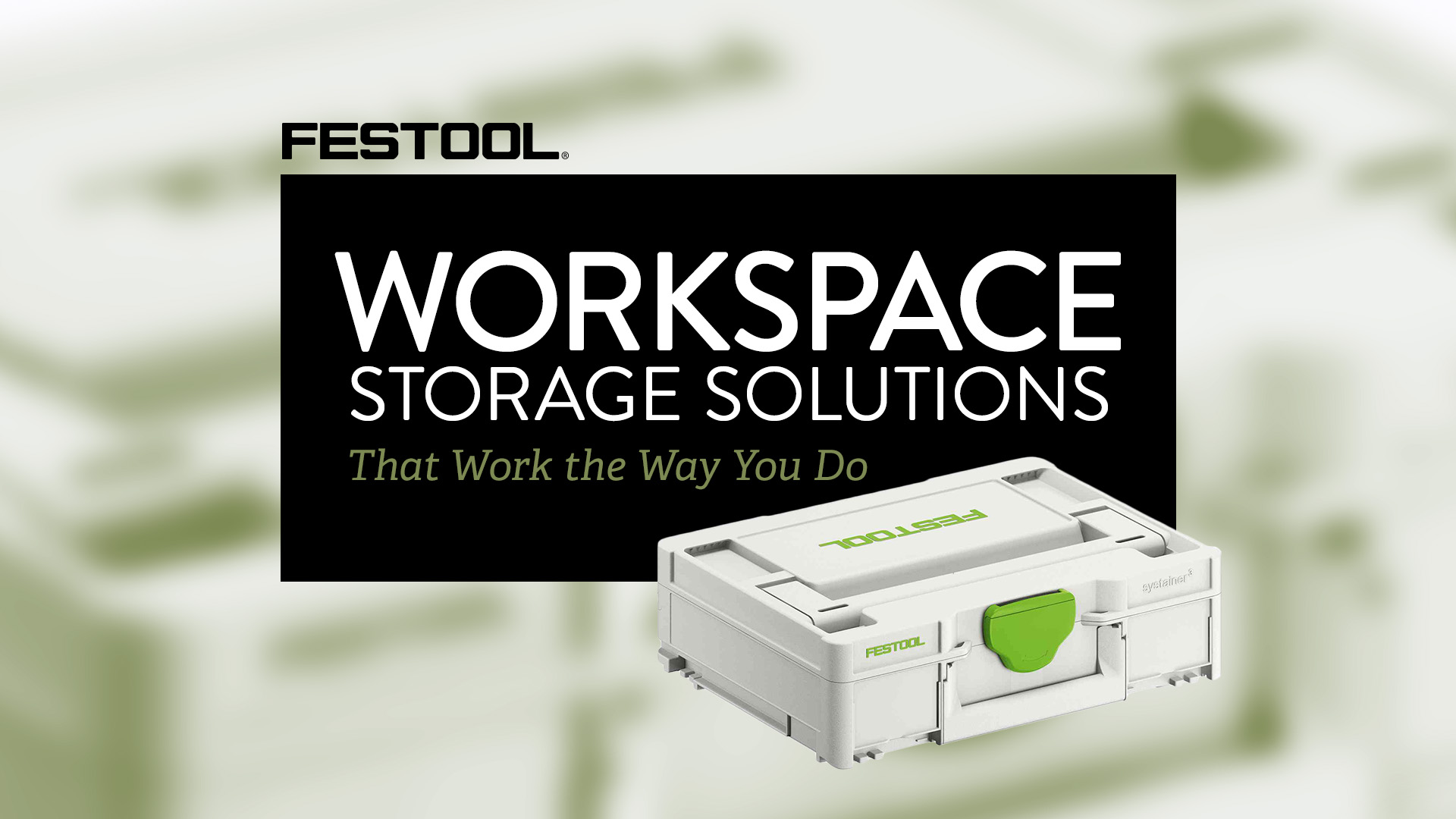 As a contractor, there's no better feeling than arriving at work each day to a clean jobsite, with the confidence that comes with knowing where all of your tools are, should you need them at a moment's notice. That level of accessibility and tidiness will ensure that you get the job done right and on time, every time.
Here at Niece Lumber, we love storage and organization solutions that can be easily transported from workshop to jobsite while keeping your tools protected. Those are just a few things we love about Festool Systainers, and now we're excited to introduce Festool's latest release, the Systainer3 line. This line comes with all the product upgrades to make your job easier: an ergonomic carrying handle, strong plastic material and a latch design that allows each unit to lock with a zip tie. Perhaps the best feature about the Sys3 products is that they are compatible with all previous generation units. So if you've loved Festool Systainers in the past, you don't need to ditch all your old products to make way for the new SYS3 units.
If you're not familiar with Festool Systainers, they are regarded as one of the premier solutions for storage and organization from the workshop to the jobsite, and everywhere in between. Their heavy-duty storage containers can hold all the tools and accessories you need to complete even your most complex project. Each unit comes with a space for labeling, so you'll never misplace your tools again. All with a professional look and feel that your customers will notice.
With endless combinations, the SYS3 line comes in several sizes and styles to meet your specific needs. Need a portable container that holds your nails and screws without falling out? SYS3 has options for you. Or maybe you need a tool organizer that can be locked after your crew leaves the site? SYS3 has options for that too. Check out some of the latest features designed to save you time at the jobsite while keeping your workspace neat and professional.
You can find the latest Systainer3 products exclusively at Niece Lumber, where we strive to offer solutions that ensure your project goes smoothly, no matter what you're working on. Call and make an appointment or stop into our showroom today to see how the latest Systainer3 products can work for you.
Practical, Professional Storage Solutions
Keep your tools and supplies protected with the practical and portable storage options that the SYS3 line offers. Each Systainer is designed to interlock with other sizes and depths so you can easily bring everything you need with you to the jobsite, even if you have older generations of Festool Systainers. The T-LOC allows each container to open and close with a single movement so you can grab the tools and supplies you need quickly and efficiently. You can even lock each container thanks to the integrated latch, which allows you to easily slide a zip tie through to keep your tools secure.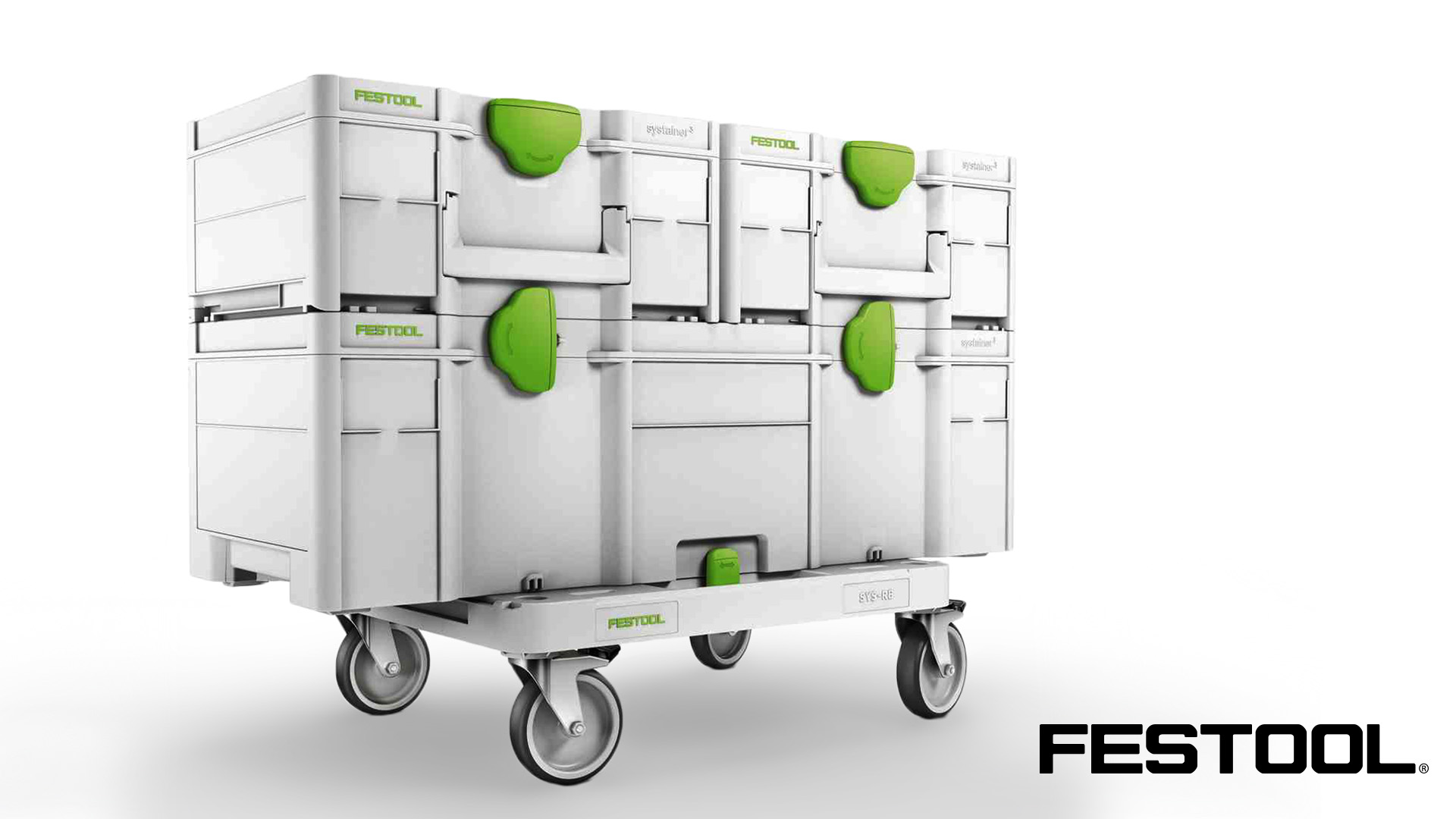 The latest generation of Systainers comes with an ergonomic carrying handle that falls forward and locks in for easy transportation (M and L Series only) and grooves on each side so you can slide them into your existing cabinet system comfortably. For the XL Series, the pull-out aid allows you to quickly and easily pull out the Systainer you need from your rack. To create your custom storage rack, all you need is the SYS Rails to build out your cabinet system.
Compatibility is the Trademark Feature
If you have older generations of Festool Systainers like the Classic or T-Lock models, the new SYS3 products will connect easily to all new and existing Systainer designs. This means if you already have Festool Systainer cabinets or a complete Festool storage system in place, you can add the latest SYS3 products to your existing setup without skipping a beat. The new SYS3 containers even connect to most mobile dust extractors and other accessories like the Sys-Cart.
Custom Accessories to Meet the Toughest Demands
The Festool SYS3 line of product and accessories are designed to save you even more time, with highly customizable configurations. The Systainer3 Organizers allow small items to be sorted into small, plastic containers that come in seven different sizes that you can mix and match based on your needs.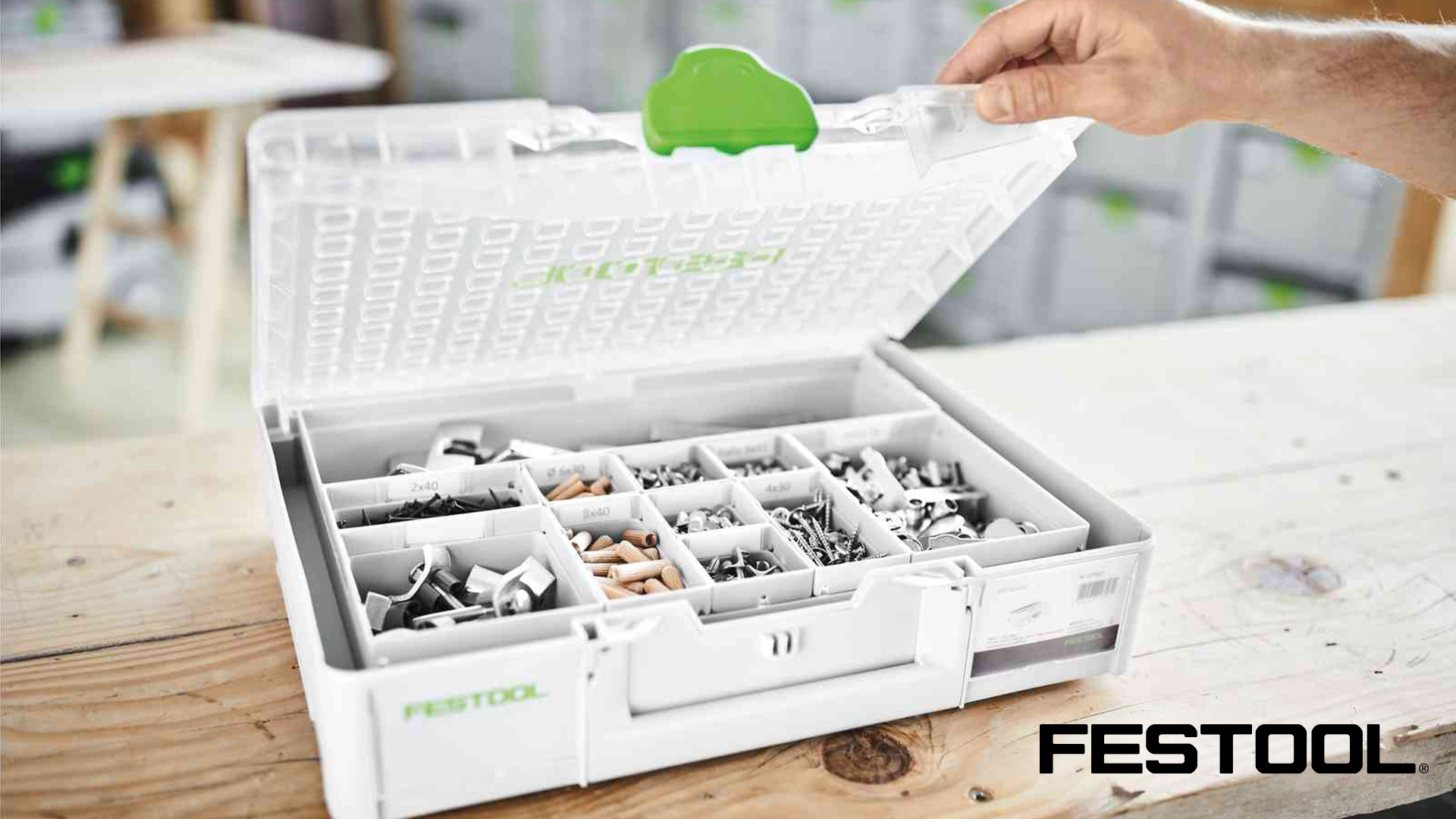 The organizers come with a transparent lid so you can easily find what you're looking for, and the best part is that they connect to the other Systainer units. The Systainer3 line even comes with a ToolBox that features a folding handle and ports to store your most-used hand tools like screwdrivers.
Keeping a neat and organized workspace is the benchmark of a quality contractor. The entire Festool system is based on keeping your workshop and jobsite meticulously organized, where everything you need is at your fingertips. Find all the Systainer3 products at Niece Lumber, where we have everything you need to complete your next project with ease. Stop by or contact us at 609-397-1200 for more information or product availability.    
---