A Cut Above the Rest: Niece Lumber's Partnership With Marvin
Windows aren't always the first thing you think of when building or remodeling a home, but their impact on the finished product is enormous. Think about it: When was the last time you walked into an unattractive or less-than-inviting home? Chances are, some of that feeling had to do with a lack of natural light or poorly-placed, poorly-designed windows.
Since windows are so important to a home's overall design and function, it makes sense that we're a little picky about quality. Cheap windows equal poor energy efficiency and, in the long run, more damage and nuisance to your home. We want our clients to invest in materials that work effortlessly and, most importantly, last a long time. That's why we're so excited to partner with Marvin.
Why choose Marvin when shopping for windows? The short answer is quality – but we'll give you a few more reasons our team has been so consistently impressed with Marvin, as well as some of our favorite features that can't be found in certain name brand competitors' offerings. Read on to learn more.
Long-Lasting Function: Wood, Extruded Aluminum & Fiberglass Windows
Marvin windows are known for their durability and long-lasting function. We've heard many friends and acquaintances remark about their decade-plus old Marvin windows (and how they're still in perfect shape) over the years, and that's one of the key reasons we chose to partner with the Marvin brand. It's not just talk: there are plenty of facts and figures to back up that reputation. Namely, 20-year warranties, 108 years in business, and an A+ Better Business Bureau® rating.
Marvin windows are available in a variety of styles and materials, including wood, extruded aluminum, High-Density Fiberglass and Ultrex® fiberglass. Each material offers a unique set of benefits – fiberglass, for instance, may be better suited for hot, humid climates or climates with frequent seasonal weather changes. Talk to a Niece Lumber window specialist to learn more about window materials and the pros and cons of each.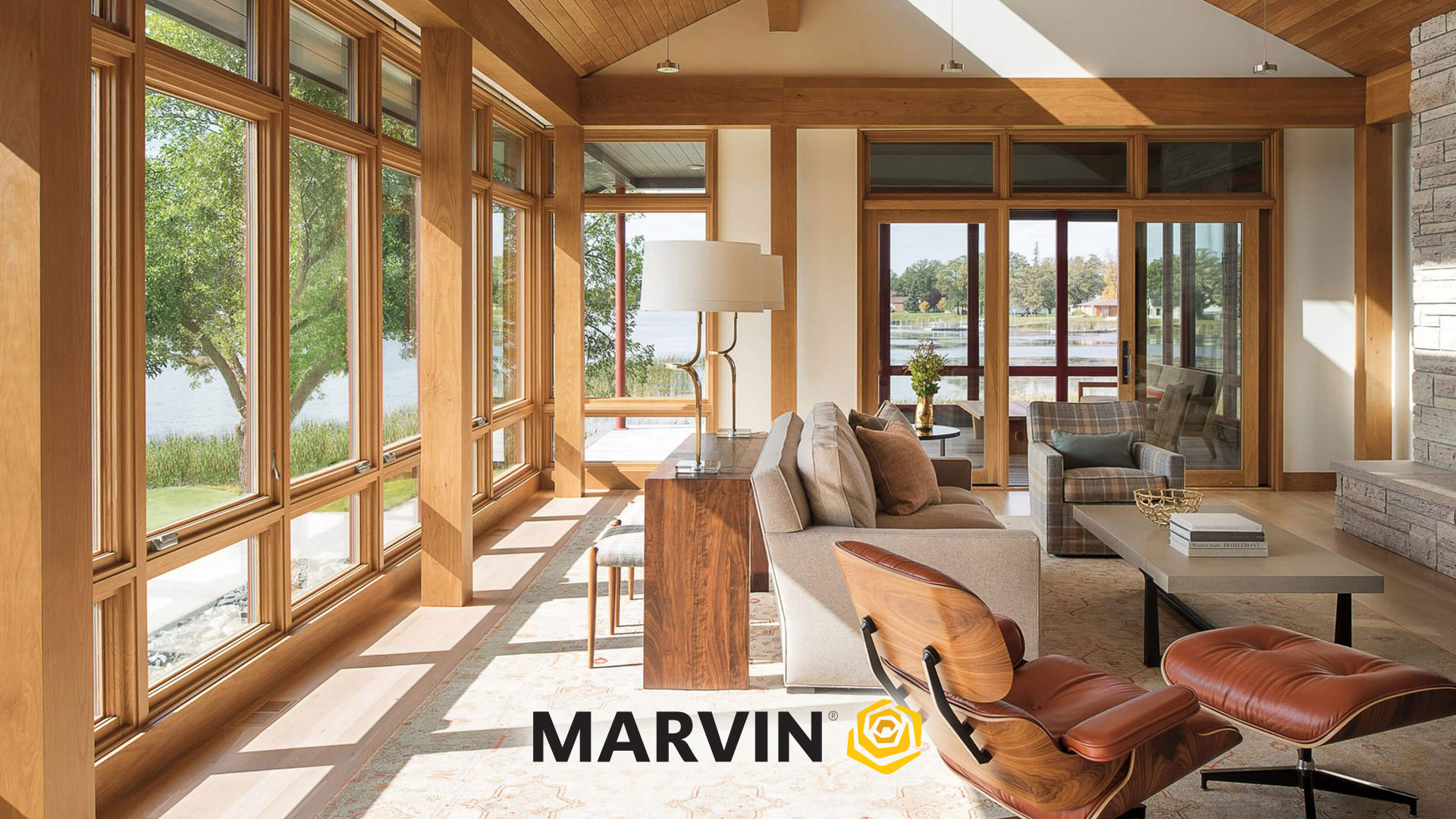 One of our favorite Marvin collections in terms of its versatility, durability, and aesthetics is the Signature™ Modern line (featured above). Made with high-density fiberglass, Marvin Signature™ Modern windows offer leading thermal performance, consistent narrow sightlines, and a modular system – all in all, a seamless approach to modern design.
For a more contemporary look with equivalent durability, consider the Marvin Elevate™ collection. Elevate™ Windows feature proprietary fiberglass exteriors that withstand the elements and outlast vinyl, roll-form aluminum, and other fiberglass composites for years. On the interior, natural wood offers classic appeal and brings warmth to any space.
Industry-Leading Innovation & Sustainability
Marvin has brought windows into the 21st century with many much-needed improvements to usability, energy efficiency, and security.
No more easily-shattered, drafty, or impossible-to-shut wooden windows: Instead, enjoy smart features like Marvin Lift Lock hardware, which allows for easy access to open and lock a window, or the Marvin Lock Status Sensor, a home automation solution that provides an easy indicator of whether a window is open and unlocked or closed and locked (available on select Marvin products).
Another reason to choose Marvin windows? Energy efficiency – which is now more important than ever. Poorly insulated or aged windows lead to increased energy consumption and a larger carbon footprint. Energy-efficient windows, on the other hand, may reduce your utility bills and make your home more comfortable and enjoyable.
Marvin offers a variety of highly efficient windows, each tailored to meet your home's unique needs: windows can be customized according to performance features like U-factor and Solar Heat Gain Coefficient (SHGC), as well as size, material, and design.
As an industry leader in energy efficiency, Marvin is dedicated to providing flexible options that help customers balance their initial investment against long-term performance and energy cost savings. Talk to a Niece Lumber window specialist to learn more.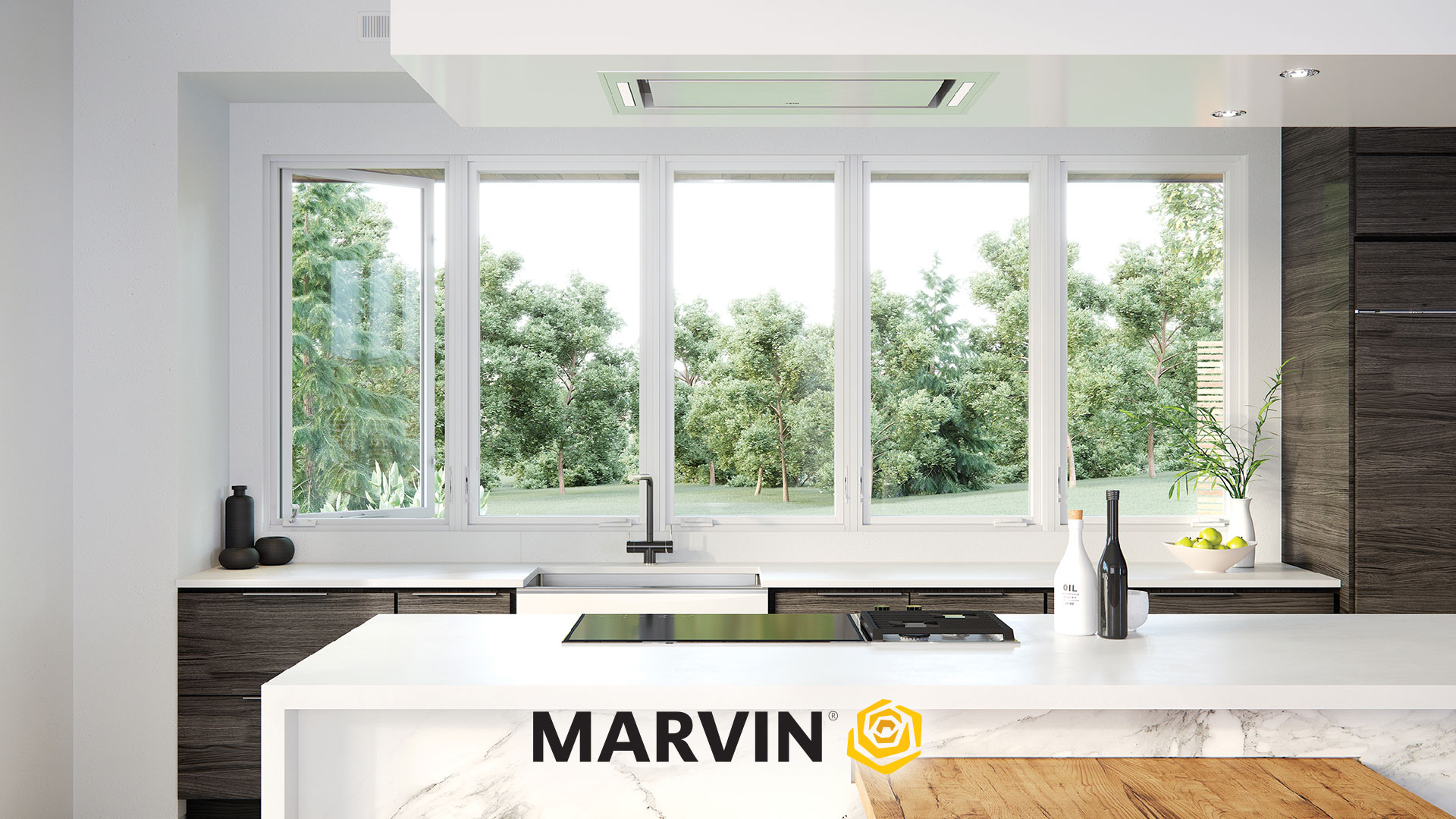 Order Marvin Windows From Niece Lumber
Natural light and a view to the outside world are two (seemingly small) factors that bring a home from average to breathtaking – all thanks to windows. They're a critical investment and, of course, they serve a practical purpose, too. They need to be durable, well-constructed, and energy efficient, even in the most challenging climates.
Windows from Marvin meet all those needs. That's why Niece Lumber is proud to be Lambertville's local, independent Marvin retailer. Not only do we honor Marvin's commitment to delivering high-quality products and services, but we help people live better by bringing out the very best in their homes.
Whether you're building new, remodeling, or replacing, Niece Lumber's window specialists are here to provide you with personalized advice to create rooms that inspire healthy living. Discover the difference with Niece Lumber today: Learn more.
---