Tired of window treatments or external blinds on your windows or doors? We are too. Adding a new Patio Door provides a very simple room makeover for your home. Its aids your home in energy efficiency and it replaces the builder grade door you hate, you know that door – handle falling off, doesn't glide smoothly, screen is broke, glass is fogged.
What we did about it?
Niece Lumber partnered with Provia 5 years ago because they had solutions that our current window and door providers did not have. Customers always asked about internal blinds. We had no option for them. Now, we have an option for our customers. Its more affordable than Pella and the quality of the blind operation is as good or better.
Why Provia?
Endure sliding glass patio doors come standard with ComforTech™ Warm Edge Glazing, a high-tech glass package that measurably improves thermal performance—for less heat loss, warmer glass temperatures and reduced interior condensation. ProVia's Endure™ vinyl sliding glass patio doors deliver stunning energy efficiency and meet the most stringent industry standards for storm protection, ease of entry and forced entry. Additionally, options for interior woodgrain colors and popular exterior paint colors, varying internal grid styles and patterns, and multiple choices for glass and hardware enable homeowners to customize Endure sliding patio doors to fit their own personal aesthetic.
What else can Niece and Provia do for you?
In addition to Patio doors (both sliding and swinging) Provia creates beautiful Vinyl replacement and new construction windows and entry doors. These products can also have internal blinds. They can all be factory finished ensuring your door and window colors stay uniform. Provia even manufacturse storm doors. If you haven't used Provia for your vinyl replacement or new construction needs we encourage you to give them a try. They won't disappoint and they are proudly made right here in the USA.
For more information, please contact one of our 9 millwork specialists by calling 609-397-1200 or emailing mcurrie@niecelumber.com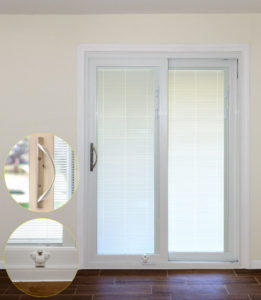 ---