Is it possible that you can get the most aesthetically pleasing and easiest installed white railing with the same product? With Liberty Railing by Intex you can. Niece Lumber stocks both profiles in 6′, 8′ and 10′ lengths. We stock a compliment of newel posts, PVC columns wraps, caps, trim rings and surface mount posts. We are located on the Delaware River in Central New Jersey, we service most of New Jersey and Eastern PA. We have the capability to service and supply Intex Millwork products across the Lower 48 states.
3.5″ Profile      2.75″ Graspable Stair Profile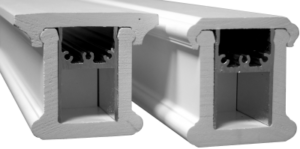 Matte Finish – 100% Extruded Cellular PVC with Aluminum Reinforced Core
Pre–routed for Easy Assembly and innovative Racking Stair Section that accomodates 18 to 40 degree Rake Angle.
Glass blade insert option (for level rail only)
3–1/2″ Width and 2–3/4″ Graspable IRC Code R311.7.8.3 Compliant
Hidden Stainless Steel Fasteners
1–1/4″ Square Edge Balusters and Square Edge Posts
5" Standard Newel Cover; 6″, 8″, 10″ and 12" Optional
Injected Molded Cap and Trim Rings Available, Solid PVC Cap Optional
Spans up to 10′ IBC Level Application
Spans up to 10′ IRC Stair Application
Does Not Require Painted (LRV>55)
Niece Lumber is proud of our partnership with Intex Millwork. Intex Millwork is a New Jersey based manufacturer that creates world class products. In addition to our stock Liberty Rail, Niece Lumber sells every single product produced by Intex. From Pergola's to Window Surrounds to their stunning Dartmouth and Nautilus railings, Niece Lumber has the professional staff that is well equipped to help you make an informed decision on your project.
For quick responses for quote requests and product info please visit https://www.niecelumber.com/contact/