Surround Your Deck with The Best! Niece Lumber is Now Offering Key-Link Railing 
While we haven't yet thawed from the long, cold winter, it's never too early to start dreaming about spending the warm summer days out on a beautiful deck. Whether you're building an entirely new deck or just adding a few modern touches, Key-Link railings are the perfect way to bring stability and style to your deck.
We're thrilled to announce that Niece Lumber is now partnering with Key-Link railings to bring modern, sophisticated elements to your outdoor spaces. Adding a premier product line like Key-Link to our vast selection of railing systems is just another way we're striving to give our contractors and homeowners the very best.
Key-Link aluminum railings deliver a modern, clean look with virtually no maintenance (and easy installation!) so you can enjoy your outdoor deck without worrying about constant upkeep and care. All their products are manufactured in America and come with a lifetime product warranty and a five-year labor warranty for even more peace of mind.
Niece Lumber now carries the American and Chesapeake Series; the American Series with black square balusters or with their flawless horizontal or vertical cable systems, and the Chesapeake Series with black square balusters. Keep reading to learn all about our brand-new railing products that will complete your backyard oasis.
Key-Link Railing: American Series
The American Series is Key-Link's most popular product: imagine walking out the door to be greeted by a trendy and innovative railing system with a distinct profile that adds to your #views. Homeowners and contractors love the American Series because it is made from thick-walled aluminum vinyl inserts that are highly durable and prevent rattling. You can trust that your railings are performing just as wonderfully as they look, year after year.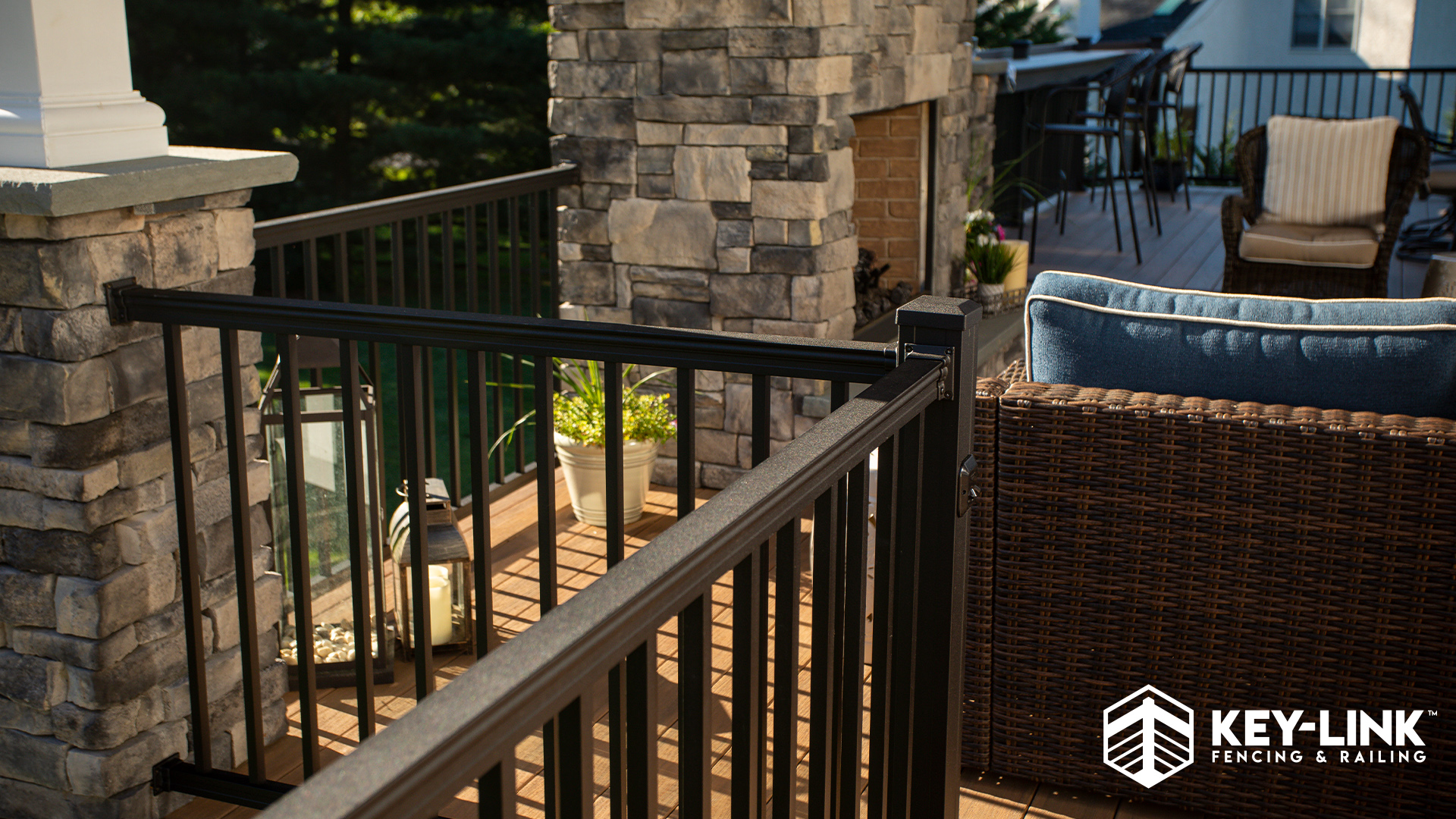 You can match your existing deck with sleek and modern textured black square balusters. The textured black color gives the American Series railings their contemporary matte look. Or, you can choose from a horizontal or vertical infill cable system for a more contemporary and unique look.
Key-Link Matching Cable Systems
Every high-quality railing needs an equally high-performing cable system. The American Series pairs well with Key-Link's top-of-the-line horizontal or vertical infill cable systems. All cabling and fillings are marine grade 316 stainless steel for the highest level of durability and beauty.
The horizontal cable systems offer a contemporary look and feel. The modern design allows the cable to fit your space – bending precisely around corners and down steps with fewer posts bogging down the view. The posts come pre-drilled and pre-fitted, saving you time and money on the project.
The vertical cable systems still give you that contemporary vibe, and even though you see more cabling, the design of the stainless steel support rods gives you uninterrupted views of the backyard. We understand that time is money, which is why we love that Key-Link pre-installs the vertical cables in each section, making installation a breeze.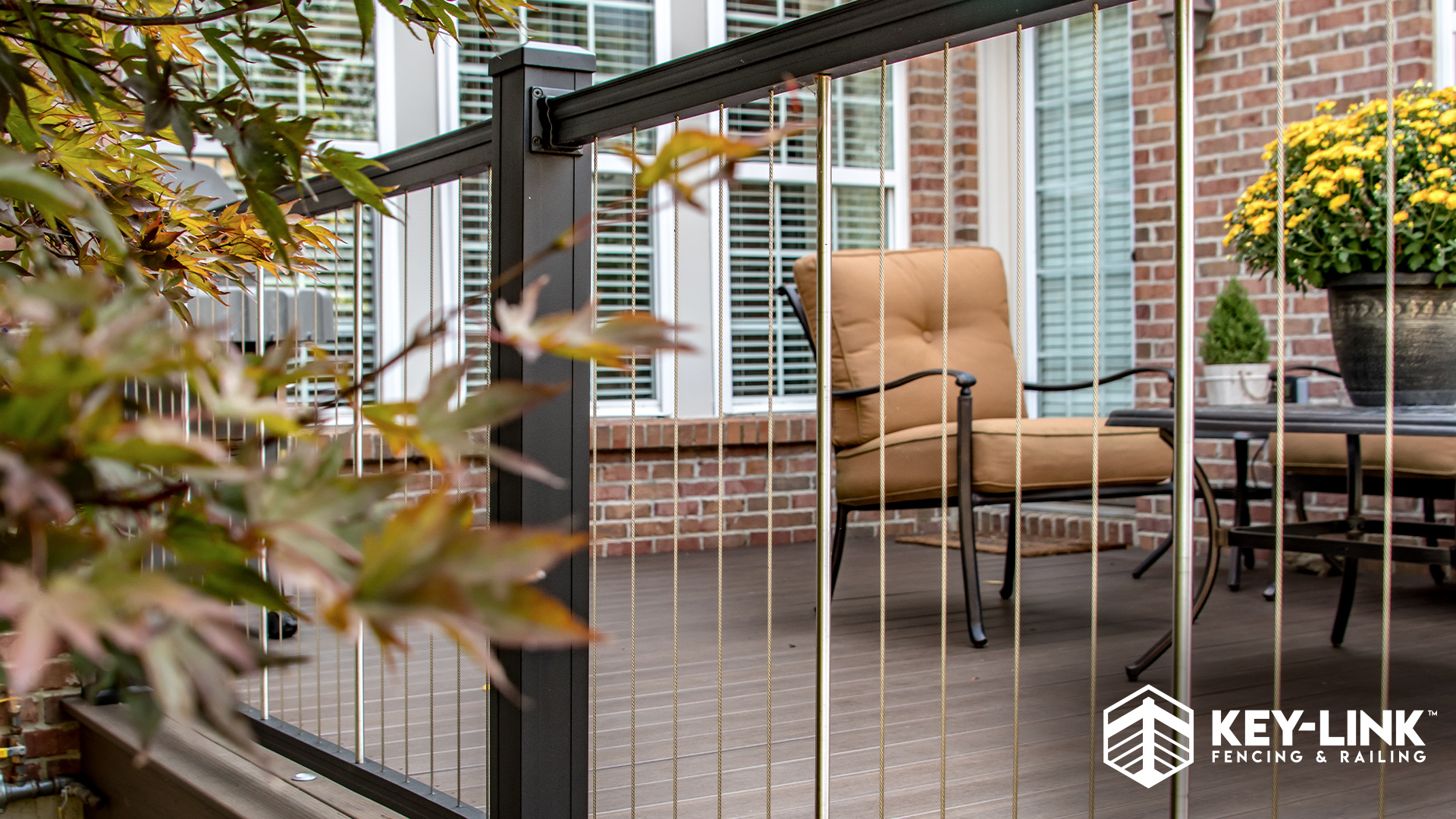 Key-Link Railing: Chesapeake Series
The signature top rail, which is actually a deck board, distinguishes the Chesapeake Series from any other. Having a wide profile top rail is an entertainer's dream because it gives friends and family members a place to put their plates or drinks right on the railing.
The Chesapeake Series is a top choice among homeowners and contractors alike, from the ease of installation to the unmistakable look of a Key-Link railing. The Chesapeake Series is available with modern black square balusters, and you can coordinate the top rail to match your deck or choose a color that will complement the existing deck.
Whatever vision you have for your outdoor space, Niece Lumber can help it come to life by adding Key-Link railing systems to our diverse lineup of brands. If you have any questions or need help customizing your space, our experts are standing by to answer your questions and help you get the job done right.
---