Niece Lumber is staying ahead of the curve and trying to get very important information into your hands regarding some significant code changes for 2016 and beyond.
Starting with the 2009 IBC and IRC, one and two family dwellings are required to install an automatic fire sprinkler system (IBC Section 903.2.8 and IRC Section R313.2). However, not all local jurisdictions in the U.S. have adopted these provisions for the use of sprinkler systems as an active home fire protection system. In May 2010, the International Code Council (ICC) approved the following new fire protective membrane provisions for the 2012 IRC (the same wording applies to the 2015 IRC Section R302.13)
The 2012 provisions were picked up sparingly, but most notably in Pennsylvania. The 2015 provisions were picked up by New Jersey. So this now affects plenty of our customers. We are now in a grace period but starting on March 21, 2016 new construction homes will have to build their floor assemblies by one of the methods described below. This is not a scare tactic by any means, fire protection for occupants of buildings and our firefighters should be a priority for all builders and their clients.
Niece Lumber is a Weyerhaeuser Trus Joist supplier and we'll explain to you two options using Weyerhaeuser Trus Joist products and one option using conventional framing.
Weyerhaeuser Trus Joist with FLAK JACKET protection
Do you love I-joists but want to keep your basement unfinished for now? Trus Joist TJI's with Flak Jacket protection provide equivalent fire protection per the IRC requirements. Get the floor performance you desire from TJI I-Joists without the hassle of additional site-applied fire protection requirements or the need to schedule additional trades. Flak Jacket has been the preferred builder solution since 2012. More on how Flak Jacket offers you fire protection here http://www.woodbywy.com/trus-joist/flak-jacket/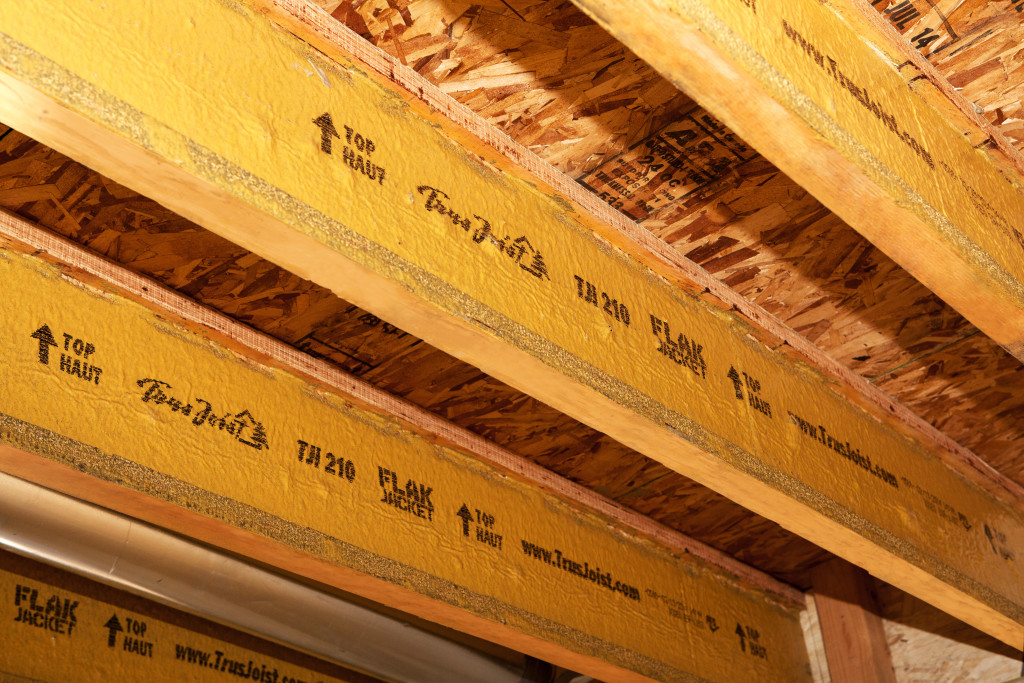 2. TJI Joists with Gypsum applied
If the plan is to finish the basement then proceed with standard TJI I Joist products and add a layer of ½" gypsum board to the bottom of the TJI flange. You are not required to tape, spackle and sand this layer of drywall.
3.  Conventional Framing Lumber supplied by Niece Lumber
Conventional 2×10 framing lumber used as your joists of the 1st floor framing system will meet the IRC fire requirements. Although many of our customers have shied away from 2×10 and 2×12 in recent years we do expect this method of floor framing to make a little comeback. Niece Lumber stocks a premium line of framing lumber, all #1 Select Structural White Fir that is Kiln Dried.